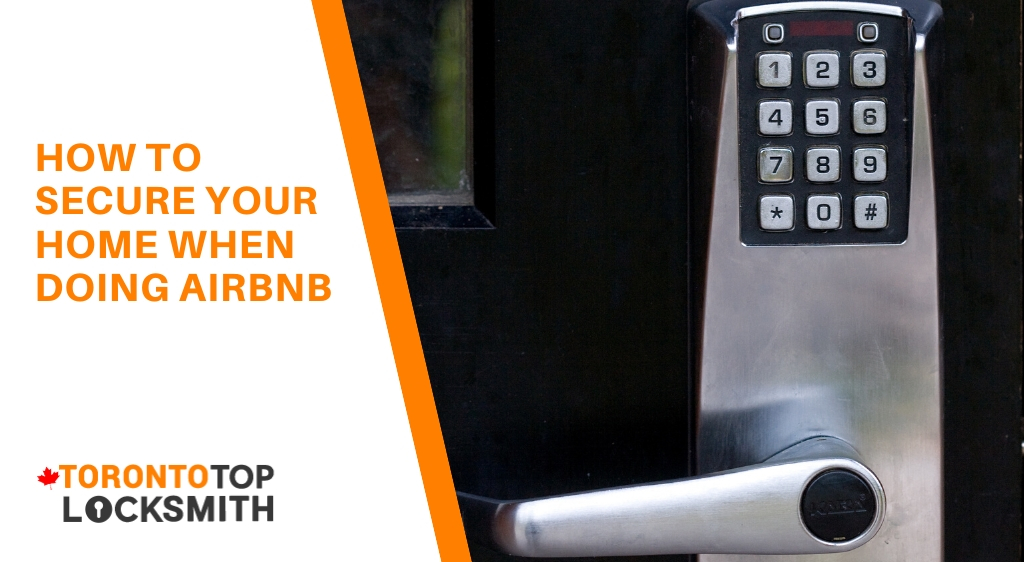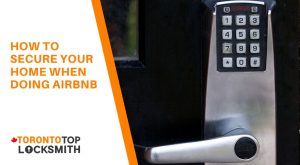 How to Secure Your Locks for Airbnb
Airbnb is an excellent source of income for renters, and is well worth it for those who need reasonably priced accommodations. From the host's perspective, there are several things to consider before renting out the property. One big element is the guests' entry and exit part of the process.
With deadbolt locks, hosts have to either meet up with their guests, or arrange a pickup/drop off time, in order to give and retrieve the keys to their property. Even if that goes over smoothly, keys can easily be misplaced or lost during or after your guests' stay. And if that wasn't enough of a hassle, what is to say a previous guest did not make a copy of the key and store it away for a rainy day? While a deadbolt is a traditional form of securing your property - it may no longer be the best one.
With technological advancements, keyless entry is slowly becoming the new norm for most people - especially those who are property renters. Not just because it is most ideal for them, but also for their guests. It allows people to bypass a potentially messy encounter, where one party is late - where the host is unprepared, or where the guest has lost (or has duplicated) the key.
Keypad locks are a top solution to an age-old problem - for one simple reason: convenience. However, that is not to say all keypad locks are made the same. In fact, the quality of a keypad lock boils down to its installation, the type of security it offers, and obviously its ease of management. Anything beyond that is just a bonus.
Let's examine closely the best ways to secure your locks for Airbnb.
KEYLESS ENTRY & EXIT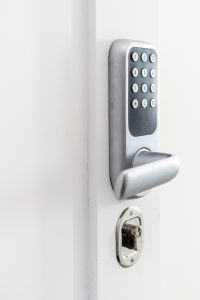 A keypad lock works wonders because firstly, it eliminates the need to carry around a key. Next, it prevents those "emergency" phone calls because someone's been accidentally locked out, or has misplaced/lost their key. Which can be a pain to deal with if it's the middle of the night or mid-rush hour. Moreso, what if you are unavailable at the time of need? Then you're stuck calling - and paying a locksmith.
A keyless entry and exit is definitely the most optimal solution in these scenarios. If a guest forgets their PIN number, all they need to do is text or call and you can remind them without having to visit them. When the guest leaves the property, the keypad lock automatically locks the door behind them. Which leaves you - the host - less vulnerable to theft or property damage from an intruder.
Lastly, most keypad locks allow you to manage your rental property from afar. With airbnbs, cleaning between each guest is practically a necessity. If you have cleaners that come in between each guest, and you are constantly renting one after the other - going to the property, especially if you live far, can be a hassle. Though, with remote access, you can easily give them access to the property from the comfort of your home.
BETTER DURABILITY
Truth of the matter is, traditional locks are not everlasting. In fact most don't even last as long as you would think they would. With every use, every key insert, they begin to wear and tear. It could start with a slight key jam, or a key jiggle, until you are left with a complete mechanical malfunction. An even worse alternative would be the key breaking off inside the lock.
The upside to a keypad lock is the simple fact that keys are not a requirement for guests to enter the property. Instead all they have to do is press a few buttons (or in some cases simply use the app on their smartphone) to enter the premises.
No repetitive friction of inserting and turning keys? No problem.
INCREASED SECURITY
Perhaps the worst thing about deadbolts - and all types of traditional locks - is that they do not prevent others from lock picking or lock bumping. This leaves room for an investigation to undermine a break-in in the case of theft as there are no visible signs of forced entry.
In addition to that potential issue, if you are renting out your property to a number of people over time - how secure is that property in the long run? Unless you change the locks with every use (which can be time consuming, and is probably less than ideal if you're a round-the-clock renter) there is no guarantee that one of your guests has not made, and kept, a copy of your key.
That's why keypad locks are a fantastic alternative. You can change the PIN code with each guest. Moreover, a lot of keypad locks have several additional security features like encryptions and authentications to prevent a new world problem - hacking.
AUGUST LOCK
The August Wi-Fi Smart Lock (which comes with a smart keypad) is filled with all the spectacular features mentioned above. Rated the number one smart lock, not only does it meet the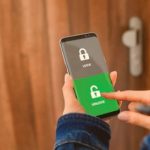 basic requirements, it far surpasses them. At first glance, its sleek and powerful design is nothing short of captivating. It allows you to use the smart lock with your smartphone, android or IOS. You can even add on a keypad, with which you can even keep your original key. Beyond that, it is easily integratable to smart devices like an Apple Watch. Installing this device takes no more than approximately 10 minutes, simple functionality, and it comes equipped with features like:
DoorSense: a built-in sensor that prevents trips back home to check whether your door is securely closed and locked.
Smart Alerts: if the status of your door changes (i.e. someone enters or leaves) you will get a notification.
Encryption: this smart lock uses Bluetooth Energy (BLE) and TLS with its smartphone application to ensure security and prevent hacking.
Authentication: an identity verification is required via email or phone number in order to ensure that the right person is in control.
Lost Phone: there is a link August lock users can go to in order to quickly and easily disable the August app in the case they have lost their phones.
Of course this isn't the only keypad lock on the market with incredible benefits. There are several other brands that can get the job done. At the end of the day, you need to see what best fits your needs as a renter. The point of all this is that getting a keypad lock is the best investment you can make for yourself.
HOSTS & GUESTS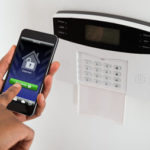 All you need to do is integrate directly with the Airbnb booking and messaging system to add new codes and then send them to guests. You can easily update or revoke access to your property based on the guest's current status. A smart lock would allow you to receive alerts upon your guests' entry and exits. Each time the door closes, it locks for increased security. No hassle of meeting each guest for the sake of keys, and no issue of lost keys.
Guests also benefit from this change. There's a quick and easy check-in experience, they no longer have to keep track of a key during their stay and they can feel comforted by the fact that PIN codes change with every guest.
If both parties benefit from this change, what's left to consider?
TORONTO TOP LOCKSMITH
If you're looking for a certified locksmith in Toronto with ample knowledge about locks and the best lock for your property, look no further. Toronto Top Locksmith is available 24/7 for all your lock emergencies. Our team is trained to provide optimal solutions to the most complication problems - and we can answer any and all of your lock-related questions.
If you're unsure about what type of keypad lock to install, we can help. Our locksmith professionals can guide you to the best fit for your property. We can even help with the replacement/installation. Simply give us a call at (647) 479-7764 and we'll be there within 15 to 20 mins to help.
Check out other home security tips: 
How to protect older homes and make them safer
The best ways to upgrade the security of your home
14 home security tips to implement if you live alone
7 Tips to secure your home this summer