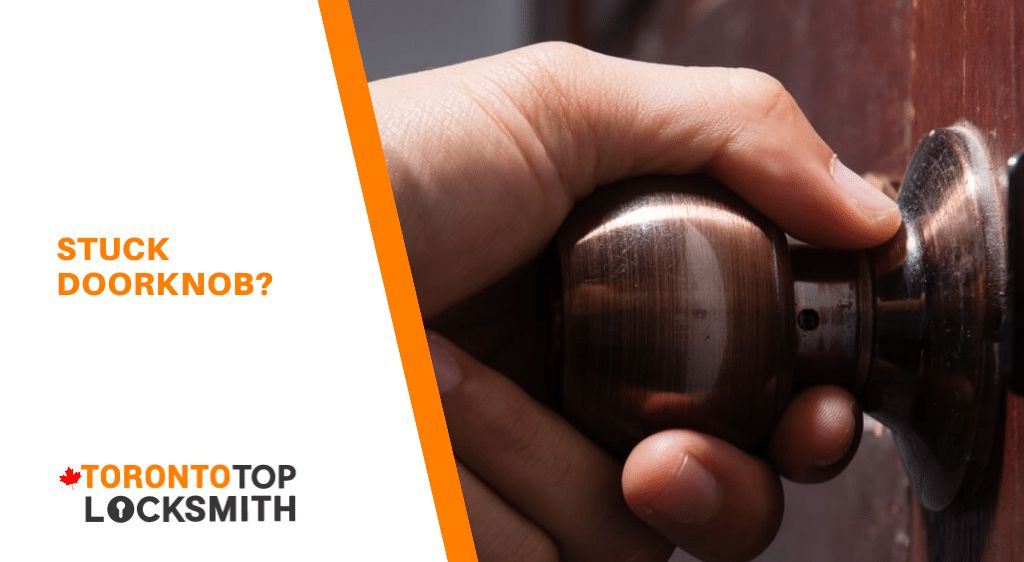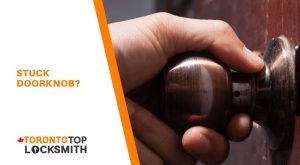 What To Do If A Doorknob Turns But The Door Does Not Open
New locks work really well in the beginning. Over time, however, wear and tear can take its toll and you may notice a problem eventually. Stuck or jammed doorknobs are a fairly common problem, but the good news is that a professional can fix the problem as quickly as it appeared! We recommend going for a 24 hour locksmith service near you if the issue is related to entrance and main exit doors. Find out more about some common doorknob problems below.
So the Doorknob is stuck, how do you fix it?
When your door handle or knob (with a spring-loaded latch) turns, the latch is retracted. This pulls the spring and compresses it to allow the door to open. In other words, when the knob or handle is in a relaxed state, the spring is extended and this keeps the door shut. Only when the spring is contracted does it allow the door to open. If you turn the doorknob or handle and the door does not open, it can be quite distressing. Fixing the problem will require the door to be opened first. If the problem is affecting an exterior door, make sure that you have another point of entry into the house – just in case you get locked out! You will need to remove the handle as well as the thru spindle. You can then test the thru spindle to see if it retracts the handle. This test will help you determine whether it's the spindle or the handles. It's a good idea to inspect for wear and tear while you're at it. A new door handle or knob might be a good idea if there is significant wear and tear. Not only is this important for exterior doors (for safety reasons), but also interior doors if you want to avoid getting stuck inside or locked out of a certain room. If you have young children, it's particularly important to have reliable door handles/knobs.
Door lock stuck open
If your door lock is stuck in the open position, it can make your home vulnerable. When it comes to interior doors, it can compromise your privacy. Different locks can experience this same problem but, of course, the solution will depend on the type of lock itself. Older locks might need to be replaced. If you notice a lot of wear and tear or rust, consider replacing the lock. If the key is worn or damaged but the lock still seems to be in good condition, you might want to test a spare key. If it works well with the spare, you can get new keys made. If the lock cylinder is damaged or broken, it might be best to replace the lock. Also, it's a good idea to check if the door is still properly aligned. A misaligned door will not lock properly and, over time, many doors tend to warp and lose their shape.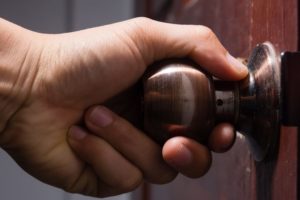 Doorknob button stuck
This problem usually applies to interior doors because doorknob buttons are not used on exterior doors for a number of reasons. Fortunately, this problem is relatively easy to fix. If the button is stuck in, you can use a number of techniques. You should press the lock button all the way down. Hold it in for a few seconds and then release quickly. It can also help to slide your finger or thumb off the button so that it creates increased pressure to help 'pop' the button open. If this doesn't help, you can try pressing the button very quickly – kind of like the way those old arcade games used to work. If this doesn't work, you can try turning the handle while pressing the button in various ways. Jiggle the handle but be careful not to use too much force or it can cause more harm than good. If the button is stuck out and you cannot press it, you can try jiggling the handle and moving the door. Again, do not use too much force. If this doesn't work, you might be able to open the door by accessing the spring-loaded latch through the gap between the frame and the door.
Remember, replacing an old or worn-out lock is not the only solution to the problem. In some cases, it's a matter of cleaning the lock thoroughly and it will serve you well again for another few years. Of course, if you do notice any damage or excessive wear to the lock, it's best to opt for a replacement or you could end up experiencing the same problem within a few days or weeks.
If a particular lock has given you trouble on several occasions, ask a professional locksmith about replacing the lock. At Toronto Top Locksmith, we offer 24 hour locksmith services and our team specializes in performing speedy locksmith services throughout the Greater Toronto Area, Richmond Hill, Kleinburg and other areas. We are available for all your emergency locksmith needs and we always arrive promptly. When you need a reliable locksmith, call us at (647) 479-7764.
Check out our other lock emergency tips:
Can a locksmith cut a key from a lock?
Do you need to replace your deadbolt lock?
Why do keys get stuck in the ignition?
Never lose your keys again with these 4 key finders on the market