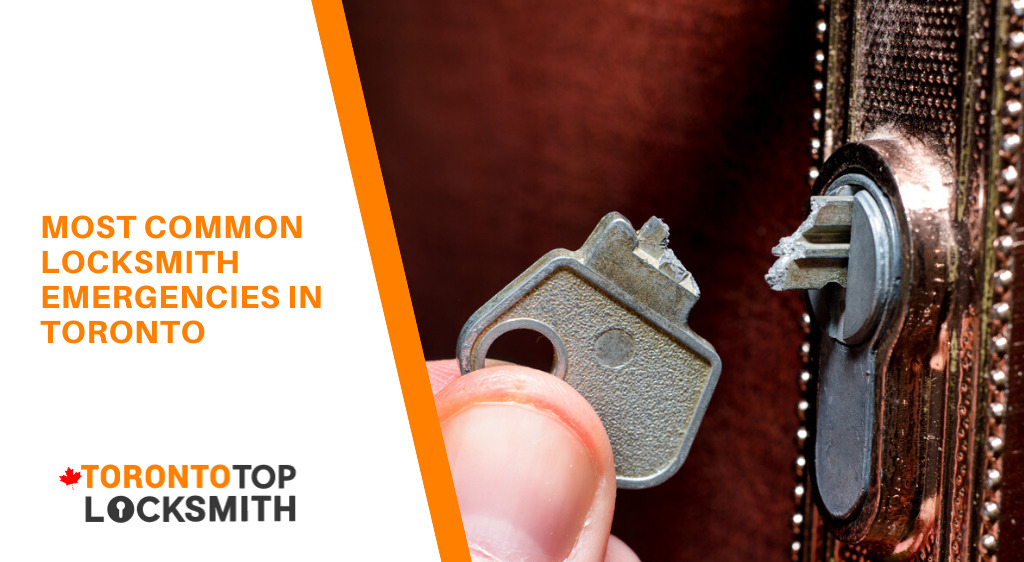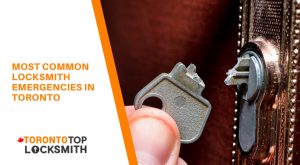 Most common locksmith emergencies in Toronto
With years of expertise as emergency locksmiths in Toronto, we have concluded that some lock problems are more common. If you are wondering if your lock emergency is unique, we can safely say that you are not alone in this.
Our emergency locksmith services are different from our standard service. Emergency locksmith service in Toronto is available 24/7 at Toronto Top Locksmith and on all days including weekends and public holidays. That means we have your back when you most need us.
Here is looking at common services requested for an emergency locksmith in Toronto.
Broken Key Extraction
This is one of the most common calls we get. We have seen cases of an old lock situation where the key jams into the lock and in trying to release it our clients have broken the key in the lock. This happens often in winter too. We recommend calling us earlier if you have this situation on hand. Our other suggestion would be to invest in stronger locks or even digital locks so you don't have to stand in the cold struggling to unlock the door.
Car Key Duplicates and Car Key Replacement
Another common issue faced by our clients in Toronto. We understand that reaching your car dealers for a duplicate or a replacement at earliest can be a hassle. Lucky for you we offer our car key duplicates and replacement at earliest. 
Car lockout emergency
Another common lock issue faced by our clients. Locking in your car keys in a hurry or misplacing them during your errands is a pretty common situation that we get calls for often.
We are there to help you out during such a time, you can call us any time.
Home lockout emergency
We have all been there. Getting locked out of your home when you most need to get inside can be a huge convenience. This is when we get calls to get our clients in with key copies. This is one of the common emergency lock situations faced in Toronto. We recommend keeping an extra set of keys.
Key turning in the lock but not unlocking
This is a defect in the internal mechanism of the lock. This needs a professional fix. We recommend not to take hasty DIY measures to get your lock unlocked as this can damage the lock further and end up costing you more than you bargained for. Call us and we'll take a look.
Damaged locks
This is prevalent during the winter and the rains. It so happens that it takes a few tries to get the lock unlocked with your key. If the key isn't the issue, the lock mechanism might be rusted or misaligned which makes unlocking the door a hassle. We take these repairs on an emergency basis and are there to fix it at earliest.
We are the emergency locksmiths of choice in Toronto. We are open 24/7, to offer our timely and speedy locksmith services to clients across GTA and Toronto. Call (647) 479-7764 for reliable Toronto locksmith services you can trust.
Check out our other lock emergency tips:
7 Common car lock issues that car owners face
Why does a key keep turning inside a lock?
Help! I've locked myself out of my house!
What to do when your key breaks inside the lock?