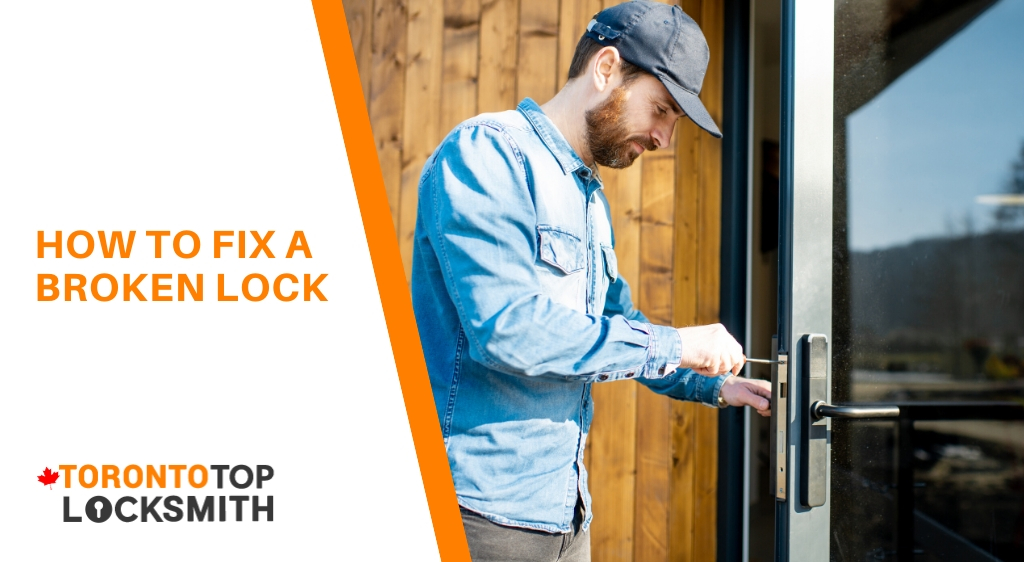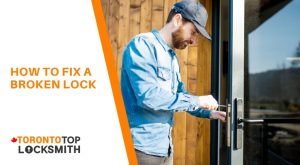 Toronto Locksmith Tips: How to fix a Broken Lock
Lock-related accidents happen. Keys get stuck inside the lock, the door knob simply won't turn, your keypad combination doesn't work… Whatever your lock emergency may be, there are some home remedies you can try to fix them yourself, but before you do that, you should understand the common issues that frequently happen. Here is some advice on how to fix common issues with door knobs, door locks and deadbolts including frozen or stuck lock, door locks that don't lock properly, loose doorknobs, broken lock cylinders and more:
Lock Mechanism Doesn't Work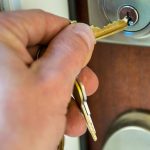 You've tried twisting, jiggling, slowly turning your key, but none of the attempts helped with opening your lock. One of the common reasons why your key can't open your lock is that the lock is dry or dirty and needs to be lubricated with graphite. Trying to force the key won't solve anything, so if lubrication fails, it's best to call a locksmith to replace the lock. 
Loose Door Knob
It happens more often than you know. Door knobs can become loose over time and how you repair them depends on the locks. A simple mortise lockset can be quickly fixed in a few simple steps:
Loosen the set screw on the knob

On the other side of the door,  turn the knob clockwise and then tighten the screw until you feel it resting against the spindle
Another issue can be a worn spindle, in which case it has to be replaced. If the whole lock is worn, it is best to replace it entirely. 
Stuck Deadbolt
If your deadbolt is stuck, chances are that it is having difficulties finding the throat in the strike plate. Inspect the strike plate and make sure it is aligned with the bolt and secure and then file the edges of the strike plate. If this doesn't work, you'll probably have to remove the strike plate, fill the holes with wood matchsticks and glue and re screw it in place. 
Entire Lock Cylinder Turns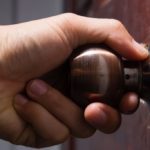 If the entire lock cylinder turns, that means that the set screws that hold it in place are either broken or loose. A home fix for this can be tightening the set screws by removing the faceplate. Once you locate the cylinder set screws (they should be in line with the center of the cylinder) tighten them by turning them clockwise. 
Door Lock Doesn't Latch
When it comes to a door lock that doesn't latch properly, the repairs can go from minor adjustments to having to adjust the entire door. Before you start repairing and adjusting, try to do an assessment of your own. Close the door slowly and watch what happens. Where does the latch bolt meet the strike plate? A door lock that doesn't latch means that the strike plate and the latch are not aligned. In this situation, try tightening the hinge screws and then loosen the screws on the strike plate to shift it slightly. 
Door lock is slow or frozen
The small internal parts of a lock will wear out which can slow down your lock. Before you decide to replace the lock, try some home remedies that may work. 
Put graphite into the keyhole, either by squeezing it or dusting it on a key. Try to operate the mechanism a few times to work the graphite into the lock mechanism. 
Use a lock de-icer. Certain products contain lubricants and alcohol that will help remove dirty deposits inside the lock. 
Disassemble the lock to see if there is something broken or jammed inside. 
These are just some of the many quick fixes that you can try if you're having issues with your locks. If you know how to look out for the warning signs, you won't have to worry about a jammed lock and a potential home lockout.
Check out our other lock emergency tips: 
Avoid break-ins with these easy tips
Do you need to replace your deadbolt lock?
What to do if a door knob turns but doesn't open
What to do when your key breaks inside the lock
What to do if a key keeps turning inside the lock
Looking for a reliable, fast and certified locksmith in Toronto? Look no more! Toronto Top Locksmith is available 24/7 for all your lock emergencies. Give us a call at (647) 479-7764 and we'll be there to help you in 15/20 minutes.