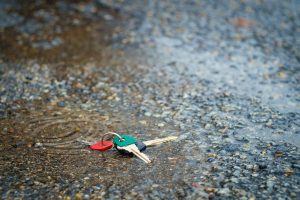 What to Do When You Lose Your House Keys
When you lose your house keys, it can be very stressful and worrisome. It's not just the inconvenience of having to get a spare set made or worry about someone else gaining access to your home—it could lead to bigger security issues if the keys fall into the wrong hands. Fortunately, there are a few steps you can take right away when you realize that your house keys have been lost or stolen.
Look Around For Your Keys
The first step is to try and locate them. If they were misplaced in or around your home, conduct a thorough search in common hiding spots such as under furniture cushions, near entryways, or other places where you may have left them absentmindedly. Think back on where you had last used your keys and then try retracing your steps throughout the entire day – it can be helpful to talk out loud too so that your thoughts become more organized. Look through all bags, purses, wallets and pockets for potential signs of them being misplaced accidentally. If you don't find them after an exhaustive search, consider whether your keys may have been taken by someone else. It's important to take proactive steps quickly in this instance because it could save you from having more serious security problems later on.
Call A Locksmith Immediately
Once you've determined that your keys are definitely missing and cannot be found anywhere within your home, call a locksmith immediately for help with replacing the locks on all of your doors. A professional locksmith will assess which locks need to be replaced and carefully remove the old ones without damaging any of the surrounding areas like walls or door frames. Most importantly, they can also expertly install new secure locks that meet today's safety standards — giving you peace of mind knowing that no one has access to your home unless they have a key authorized by you.
Upgrade Your Security Measures
If you're worried about someone breaking into your home while waiting for a new set of keys from a locksmith, consider upgrading some parts of your lock system for added security until then. For example, installing anti-theft pins in each door lock is an inexpensive yet effective way to add extra protection against jimmying or tampering with existing locks from outside forces. You can also bolster additional layers of security outside your home such as motion-activated lighting systems and surveillance cameras that alert homeowners when suspicious activity is detected around their property line. These are important security measures to have in place at all times, regardless of if you have recently lost your keys. 
Aside from updating the physical locks on all doors and entrances leading into your home, do not forget about digital security measures as well! Many modern homes allow access through digital devices such as smartphones and tablets; if these were paired with lost or stolen keys, make sure to reset passwords associated with those accounts immediately so no one but authorized users can gain access again in future. This includes revoking former user ID privileges who may have had access before losing the key.
Finally, remember it's always best to keep extra sets of house keys hidden in safe locations or with trusted neighbours just in case these ever go missing again! Whether it's entrusting duplicate copies with close family members or securely storing them away near entry points for easy retrieval during emergencies; doing this ahead of time ensures that even if something happens again down the road—you'll still remain able to reenter/exit from inside/outside spaces without worrying about having no other option than to call an emergency locksmith.
If you ever lose your house keys and need a reliable locksmith to replace your home's locks, Toronto Top Locksmith can get the job done! We have technicians available 24/7 in Mississauga, Oakville, Toronto, and more places all across the GTA when you need residential locksmith services. Simply call us at (647) 479-7764, and we will be more than glad to help you with replacing your locks.